Spring is so so close and it's time to make room for the new spring styles I have in store for you! I cannot wait to show you the first delivery of spring! It's a very considered and feminine offering that will be perfect for getting spring started. More on that soon–but first, I wanted to officially announce that I will be discontinuing some existing styles. Some of them have been with me from the beginning and have helped me grow my business, but no longer represent who I am as a designer (real talk: designers evolve just like any other kind of artist). Others are being discontinued because the article (industry lingo for the specific name of a leather or component) is getting harder and harder to find or because of feedback I've received from you about how you wear your shoes.
There has been an enormous amount of love and craftsmanship put into each and every pair and I love and respect them as much as the day they were first put out into the world. It's going to be difficult to say goodbye to some of them, but I believe it will for the very best and that their departures will make way for ever more relevant styles. To give the styles the closure they deserve and for you to have ample opportunity to make them a part of your collection, the last day to order these styles will be March 31st. Read on to see exactly which styles we'll be saying goodbye to, why it's going and what it will be replaced with.
The Mule in Black Glaze – This style isn't going away, but it will be getting an update. It's currently made with cow leather upper and lining. Version 2.0 will be made with kidskin upper and lining. I've been having issues with consistency the of finish of the current article we're using for a while–the mule in black is meant to have a supple shine which has been elusive all to often. Using kidskin instead of cow leather will give the style a more refined finish, but also give it the shoe a softer feel overall. Those you who already own the mule know how it fits like glove—with kid leather and lining, it's going to be out- of-this-world crazy comfortable. Also important to note—the price of mule will increase slightly after March 31st once we make the transition to kid leather and lining.
The Mule in Sand Suede, Navy Suede and Burnt Sienna Suede – Thanks to the feedback I've received from some of you, I've begun to realize that suede is too delicate of a material for the way a lot of you wear this style. The mule is the kind of style that can be worn all day every day (not that I recommend wearing any pair of shoes everyday), and suede isn't meant to handle the beating of daily wear. It's high maintenance, easy to stain, and easy to wear a hole into. It's just the nature of it. But it's so beautiful. And so comfortable. I know I said at one point that I would never discontinue the mule in burnt sienna, but I really want to offer the mule in materials that will last more than a couple seasons of regular wear. I personally adore suede. It's my favorite material to work with because takes color so so well. Suede makes any color no matter how odd/bright/boring look so sophisticated and interesting. You'll be seeing suede used with other styles in the collection, but for now it's so-long to suede mules. RIP. Not to worry though— I'll be introducing more leather colors in the mule this season! What's staying in the collection: The Mule in Black Kidskin (see above) and the Mule in Walnut.
The Loafer in Currant Snake – This is one of those styles that I feel doesn't represent what zou xou is now or where I'd like it to go. I originally added it to the collection because I wanted it to be zou xou's solution to a boyish non-black shoe. At the time, I just wasn't very interested in brown shoes and thought a dark red + snake combination made a more interesting but equally wearable alternative. How I feel now is that while I love the color and love the style, I've just always wanted the red to be a touch deeper and plummier to make it a bit more versatile in the wardrobe. To be discontinued for now but perhaps revisited later in an updated shade in the reddish or purplish realm.
The Loafer in Reflector – This style was a seasonal addition with limited availability. What this means is that I've found a small lot of the leather from the tannery and won't be able to get more of it once it's run out. Grab it while you can because once it's gone, it won't come back! What's staying: The Loafer in Black, and Black Embossed Snake/Crust as well as the Glove Flats in Black and Walnut.
The Beia Boot in Black Embossed Snake, Black Suede, Dulce de Leche Suede, and Mulberry kidskin – The Beia boot will be going away for the spring and may or may not be back in the fall. One thing I know for sure is that if Beia does return, it will be back with minor adjustments to the fit and overall shape. It's too soon to say whether these changes will amount to Beia 2.0 or to a new style altogether. I'm thinking of taking in the shaft a bit and perhaps lowering it and replacing the heel with something less chunky. Or maybe leaving it as is but adding a tread. I love how badass this boot is, but I want to explore how to explore more feminine styles in addition to winter weather-appropriate styles. I'm always thinking about versatility and how you're going to be styling the shoes throughout the season. Also, I just want to say how much I loved the process of developing this style. From scouring vintage showrooms for the perfect reference and figuring out how to make it my own with the resources available, it was a challenge and pleasure! What's staying: Nothing in the Beia boot!
The Anaise Ankle Tie Sandal in Black Suede and Burnt Sienna Suede – These are going away for good. This is another style that I feel is moving away from where I want the collection to go. When I designed these sandals I was picturing my life in the city. You know, involving nights out with lots of walking, subways, standing, waiting, cobblestones and uneven pavement. Then I realized these things are very NYC problems and that most of you drive way more than walk. And when you driving ladies go out, you like higher heels. The tie up straps may not offer enough support for those of you DO do a lot of walking, and possibly cause sausage ankles in the process of tying them securely. So au revoir, Anaise. Stay tuned for higher heeled, more substantial sandals that are up for the job!
The Belu Pump in Dulce de Leche Suede, Sand Suede, Black Kidskin and Navy Suede – I'm discontinuing the belu pump in these colors for a number reasons: 1) I feel I've been playing it too safe with this style. It already has a low, demure heel and a simple upper. Why play it safe with color as well? I'm not saying it's not worth it to own a pair of black or taupe low-heeled pumps, I'm just saying I have way more to offer you. Sometimes I get stuck in a rut when it comes to designing for winter because it (cold weather) ain't my thing. That's why you'll find me in the Southern hemisphere every northern winter. But it's almost spring, which means it's time to explore color again! I will likely be introducing neutrals/basics again but in new styles with higher heels and more design details. 2) As I've mentioned before, I absolutely love suede. I would take any color in suede over leather any day. However, I'm realizing how much of a risk suede is to a lot of you, especially for a shoe of this price and for how much of an everyday shoe this is. But the texture though–I need it in my life. Expect more exploration of texture and color in this style! What's staying: The Belu Pump in Yacare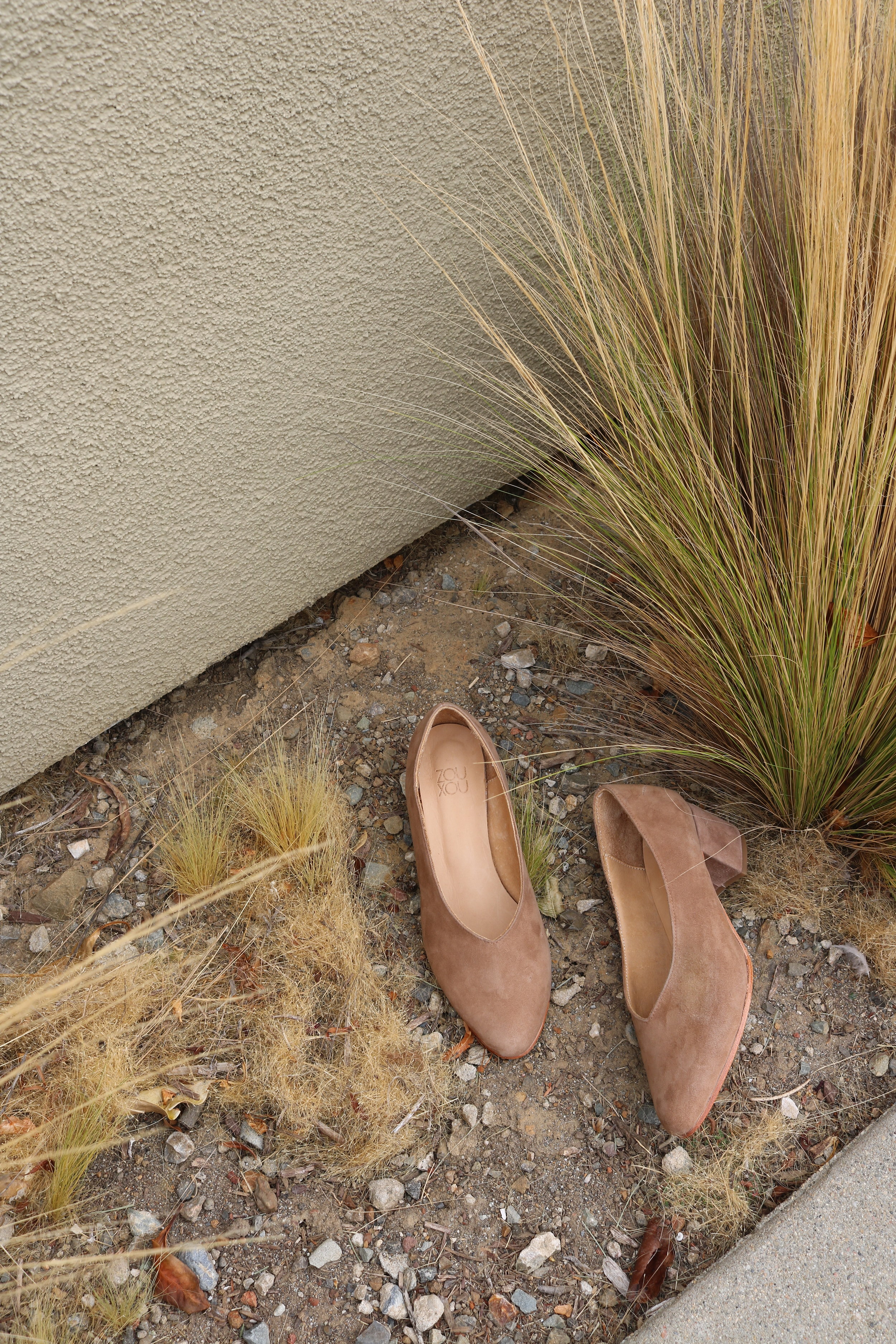 Don't forget, the last day to place your order for these styles is March 31st! So say ciao, au revoir, peace out to winter and these styles! Don't drag your feet 😉
xx
Katherine